Minecraft Setup
Publisher:

Psychz Networks

,

April 11,2017
Configuring Psychz GGA for BungeeCord (Minecraft)
This post will cover how to configure your GGA service to work seamlessly to protect your Minecraft servers and ensure client IPs are properly forwarded to the backend server.
Prerequisites
This tutorial assumes you are using the latest version of BungeeCord available at www.spigotmc.org
Launching your GGA service
If you do not have a service already, simply create one at https://www.psychz.net/gaming.html Once through checkout, you will receive a confirmation email to finish setting up your service.
Once your device has been activated, navigate to the devices section on your dashboard and click "view" next to the GGA service

You will see a "modify" button, once on this page, you will be able to configure your listening port, as well as game server IP and port.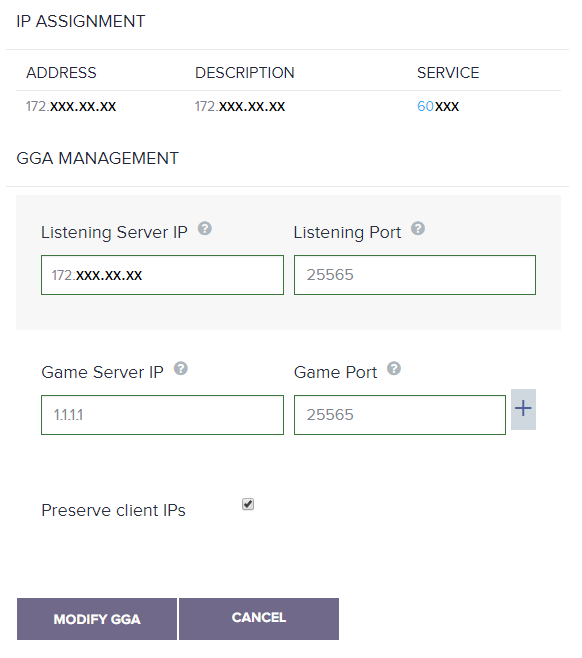 The Game Server IP and Port are the same as what your BungeeCord is currently configured to run as. If you are load balancing multiple servers, simply add the + icon to add as many servers as you require. Our proxies will round-robin connections as they come into the next available backend server.
To ensure client IPs are properly passed to the backend server, check "Preserve client IPs."

Finally, click "Modify GGA" and wait a few minutes. The frontend section is now complete.
Configuring your backend Bungee instance(s)
On your BungeeCord server, open config.yml and navigate to the config section that is titled "proxy_protocol" and set this setting to "true". This setting is right below the "listeners" section.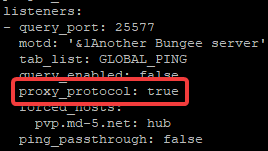 Lastly, ensure "ip_forward" is also "true" as well. This will usually be at the top of your file.

You have now completed the backend section. To finish the setup, you may reload your BungeeCord instance(s) via the "greload" command, however, a full restart is recommended as greload may cause unintended behaviour. To restart your BungeeCord simple type "end".
Should you have any further questions or issues regarding setup, do not hesitate to reach out to our support team which will be able to assist you with any problems you may have during configuration. You can contact our support team at support@psychz.net
NOW YOU'RE ALL GOOD! Have fun and have peace of mind knowing GGA will take the attacks!