Path Mapping
Publisher:

Psychz Networks

,

April 12,2018

Path mapping is mapping the URL part to fetch data from the backend servers (usually called upstream servers in a reverse proxy scenario). We will illustrate with an example.

For Example :

www.example.com is hosted at 12.12.11.113:80

And www.example.com/tech is hosted at 32.232.22.44:80

So, path mapping would be :

1. To map www.example.com to 12.12.11.113:80

this in Nginx server context means this :

" / " maps to 12.12.11.113:80

2. To map www.example.com/tech to 32.232.22.44:80

this in Nginx server context means :

" /tech " maps to 32.232.22.44:80

So, mapping paths to the backend content servers (upstream servers) is path mapping.

You can follow the below path to access the Path Mapping page.

CDN Main Page > Manage Domain > Traffic Manager > Path Mapping

1. You can access CDN main page by clicking on the following link.

https://www.psychz.net/dashboard/client/web/cdn

(NOTE: You will be needed to enter Username and Password to access this link)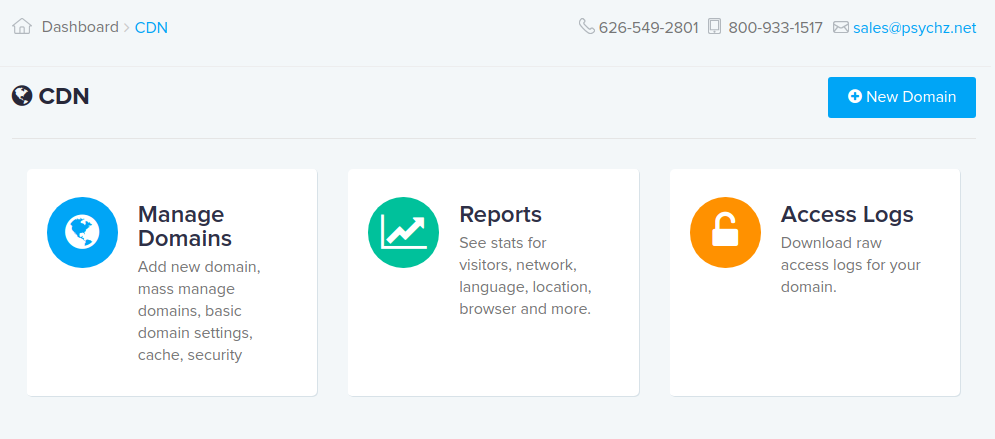 2. Click on the "Manage Domain" button on the CDN homepage.
3. The "Manage Domain" page contains a list of all the domains that your device is associated with. Click on the "Manage" button on the right-side of the domain to make changes to that domain.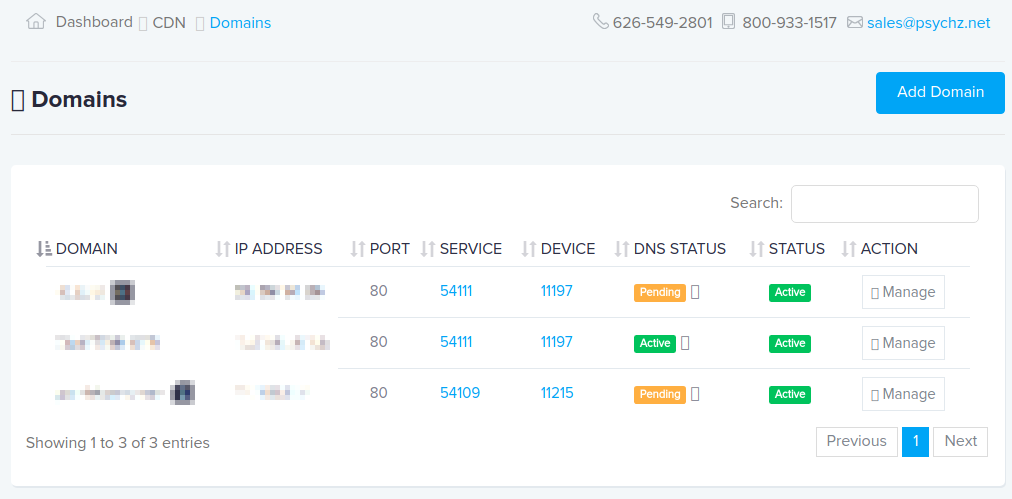 4. Click on the "Traffic Manager" button to view the Path Mapping and Header Override features.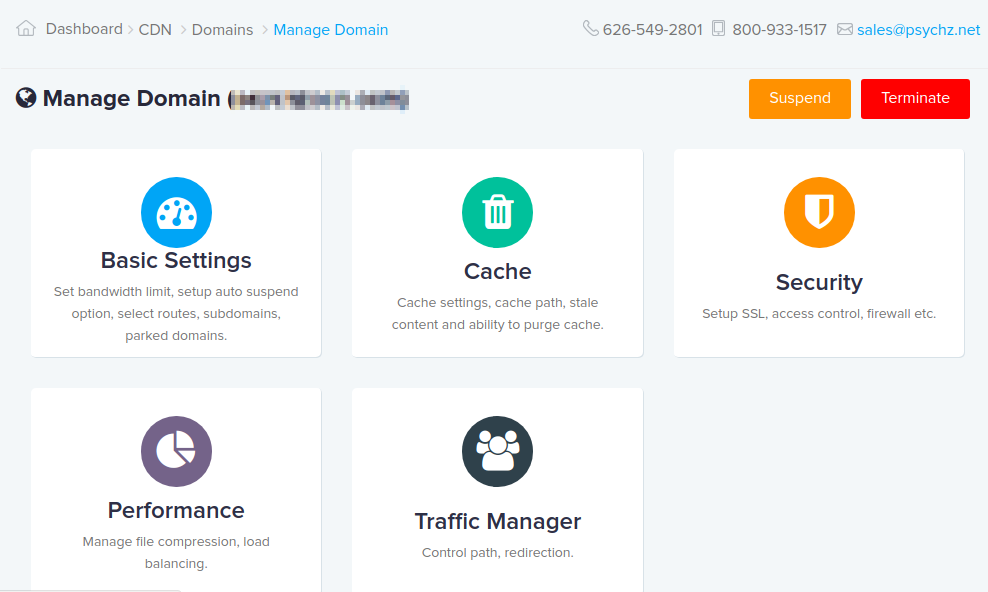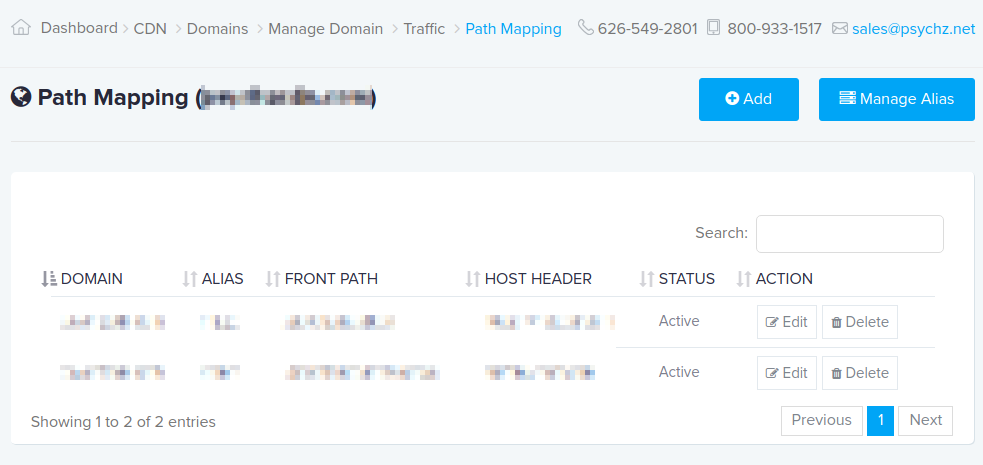 5. With the Path Mapping option, we can link the public path to the path at which the content is stored at the backend. Clicking on the Path Mapping option, you will get a list of all the paths that you have mapped under the domain. Please click on the EDIT button to map the path.

6. Once you click on the "Edit" button, the following options will be listed on the page.
a) Host Header - You can set up the Host Header specifically for the chosen path. With the help of host headers, the web server is able to identify the traffic and send it to the right path.
b) Alias - You can choose between different aliases or create a new one. Please click on the "Create Alias" to create a new one.
Aliases are names given to a setup used to balance the traffic by choosing the different load balancing algorithms such as Round Robin, IP hash, and least connections. You should also mention the Origin IP, Origin Port, Protocol as well as the weight of the mentioned IP.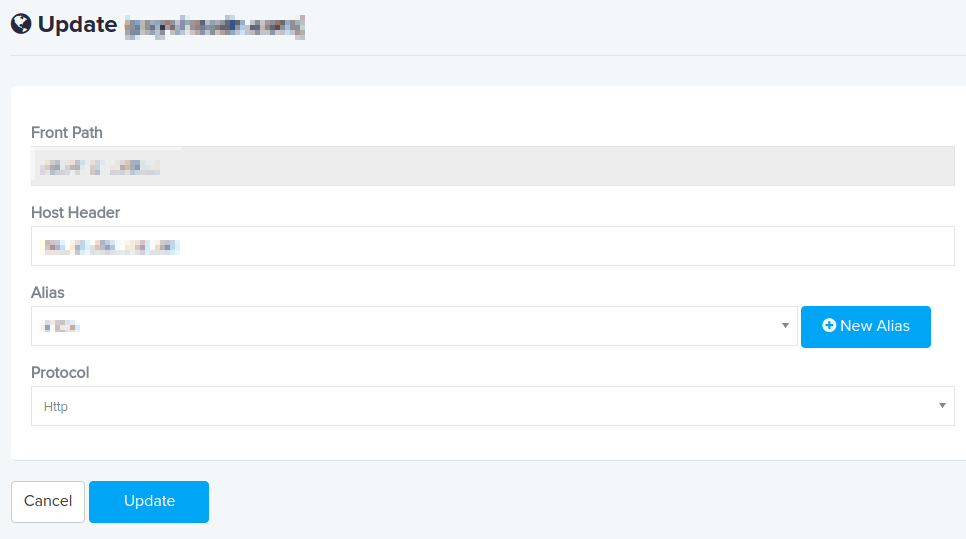 On top of the Path Mapping page you will find two buttons - Add and Manage Alias.
Add - By clicking on this button you can add a new path and map it with the host header. You will have to mention the Front Path, the Host Header, the Alias and the Protocol. Click on the "Add" button to add the path mapping.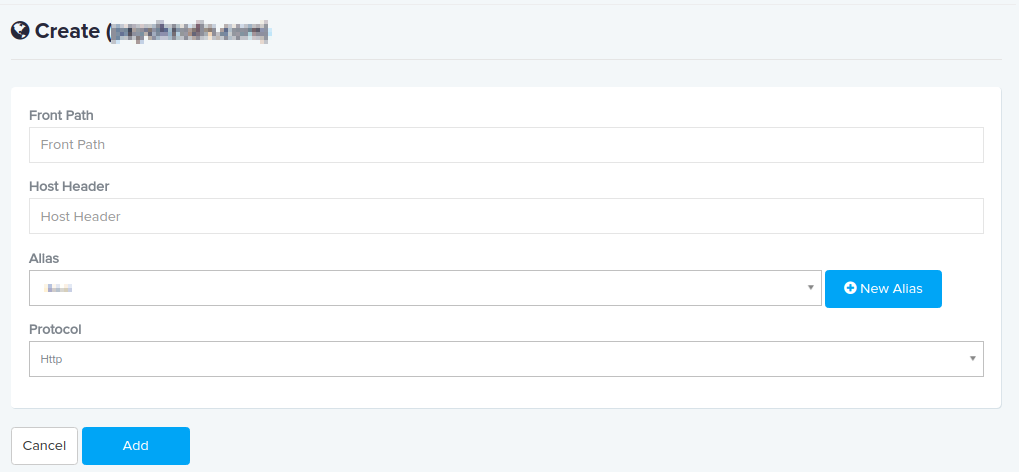 Manage Alias - By clicking on the Manage Alias button the list of aliases is displayed. You can edit or delete the aliases by clicking on the buttons beside the alias.
Update Alias - The Update Alias page contains the following fields.
a) Name of the alias
b) Load Balancing method - IP hash, Least connections, Round Robin etc.
c) Origin IP
d) Origin Port
e) Protocol
f) Weight
g) Mark