Ordering CDN
Publisher:

Psychz Networks

,

November 28,2017

This article aims at explaining our customers on how they can order our CDN services, access our client portal, set up their domain and CNAME. After reading this article you will be able to set up your own services with our CDN network.

Please follow the guide to sign up and then access our CDN services.

Order CDN services with us!
To access our CDN services and create your own account, all you have to do is signup with us by filling up your basic details on the link below.
https://www.psychz.net/dashboard/client/web/order?plan_id=291
Our team will contact you with the best offers.
Our CDN billing system is very simple and keeping in consideration the user's wallet. We bill a per your usage. You can have multiple domains for each CDN device. The bandwidth usage of each domain that you deploy is calculated. The CDN device will be billed taking into consideration the total bandwidth usage from each of your domain.
You can check your billing information on the client portal by clicking on the below link.
https://www.psychz.net/dashboard/client/web/billing/index
(Note: You will need a username and password to access this link)

Your Client Portal Account
Once you have availed the CDN services with us, your account will be created in our client portal. A Username and Password corresponding to your account will be provided to you. You can change your password anytime after that. Through our client portal, you can report an issue, view your billing information, manage network tools, view open tickets among many other features.
To visit our client portal click on https://www.psychz.net/dashboard/client/web/
Managing your CDN Account
Please click on the following link to log in to your CDN account.
https://www.psychz.net/dashboard/client/web/cdn
(Note: You will be asked to input your Username and Password)

Under this page, you will be able to see two options.
Manage Domains
Under this option, a list of the existing domains will be displayed. You can change the settings of each of these domains by clicking on the "Manage" button beside the domain. Under the "Manage Domain" option, you will find the following features.
Basic Setting - Under the basic settings, you can set the bandwidth limit, set up a Park Domain and Sub Domain among other options.
Cache - Used to set up cache settings, Purge the cache, set up the cache path or bypass it.
Security - Under the security option, you can set up the SSL certificate, Control the IP access, manage WAP and manage your DDoS protection service.
Performance - Under this option, you can manage file compression, load balancing etc.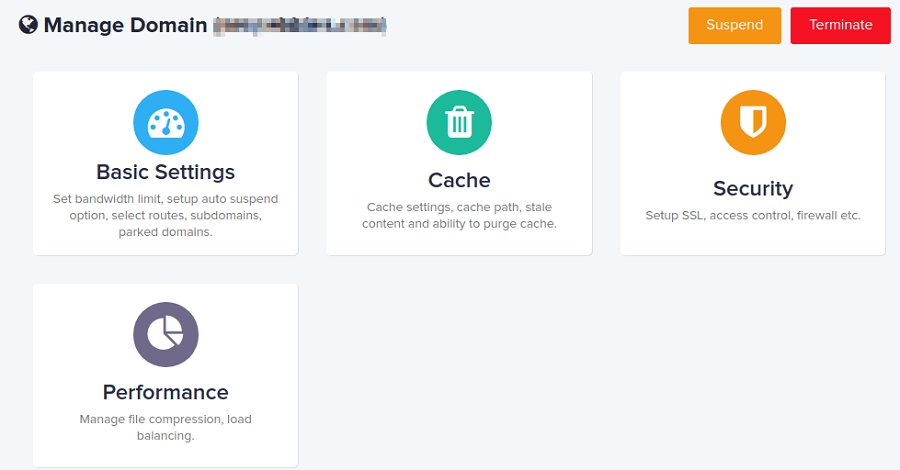 Adding a New Domain
To add a new domain, please click on the "New Domain" button. Adding a domain is a simple three-step process. The steps are mentioned below.
1. Select Device - Please select a device you wish to add a domain on. The device can have multiple domains. Once you have selected the device, click on the "Next" button.
2. Add Domain - Please input the domain name, port number and the IP address of your website.
3. Update DNS - In the Update DNS field, you will have to input the CNAME to be mapped to the domain name. Once you have updated the DNS, please click on the "Finish" button to save the domain.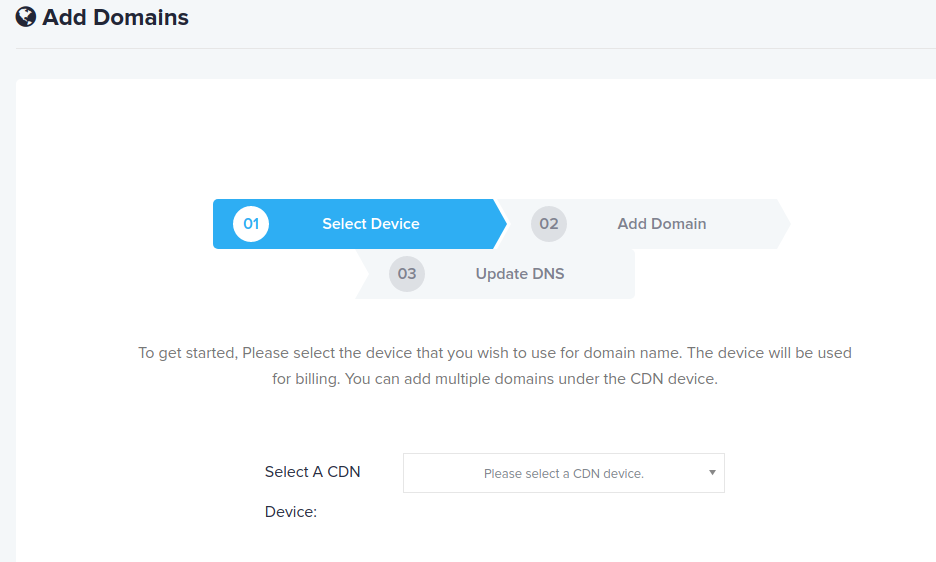 Your guide to CDN!
Please click on the following link to view our CDN services and knowledge database in detail.
https://www.psychz.net/client/kb/en/your-guide-to-cdn.html