CDN Routes
Publisher:

Psychz Networks

,

November 28,2017

This article focuses on the standard and premium routes and the difference between them. There are two types of routes which the customer can choose from. These are standard routes and premium routes.


STANDARD ROUTES - Standard routes involves all the global routes that connect to different regions. All these routes are billed at the same price.

PREMIUM ROUTES - The premium routes are routes to countries such as Korea, Taiwan, Brazil etc. These routes can be chosen by the customers as per the nature of the business and target areas. These routes are priced at a rate higher than standard routes. This is because the standard routes are included in the premium routes package. If you avail premium routes with us, standard routes will be included with it.

Customers can opt for premium routes as per their requirement. For instance, if the customer has a large user base in Brazil, he can opt for Brazil along with the standard routes.

You can follow the below path to access the CDN Routes page.

CDN Main Page > Manage Domain > Basic Settings > Main Domain

1. You can select the type of route by visiting the following page.

https://www.psychz.net/dashboard/client/web/cdn

(NOTE: You will be needed to enter Username and Password to access this link)


2. Click on the "Manage Domain" button on the CDN homepage.
3. The "Manage Domain" page contains a list of all the domains that your device is associated with. Click on the "Manage" button on the right-side of the domain to make changes to that domain.
4. Click on the "Basic Settings" button to open the basic settings of that domain.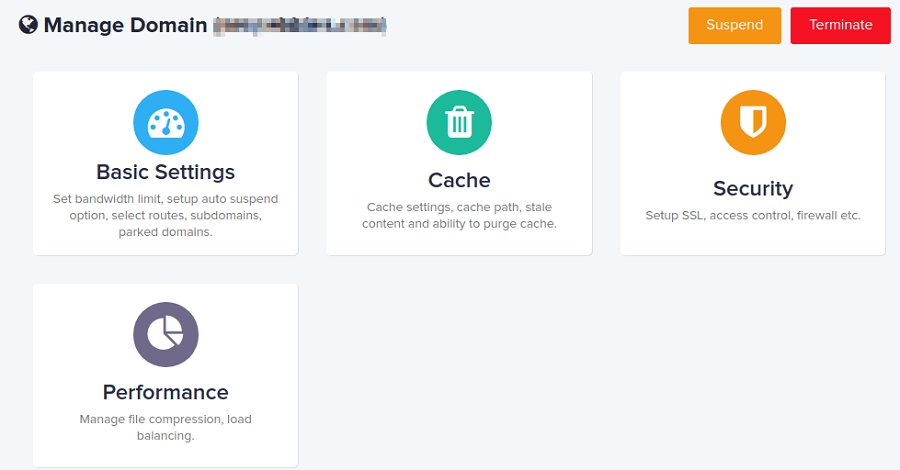 5. The "Basic Settings" page contains the option of Main Domain, Park Domain, and Sub-Domains. Click on the Main Domain page to change the setting of CDN routes.