Creating New Domain
Publisher:

Psychz Networks

,

November 28,2017

This article will focus on creating a New Domain on your CDN device. After your account is activated, you will be provided with a CDN device which you can view on our client portal. You can create and manage multiple domains on this CDN device. It makes the process of accessing and managing domains convenient as you just have to access your CDN device to manage all your domains. Also, if you are a reseller or have the ambition to become one, you can easily create a CDN service for each of your client and allow specific domains to be created on that device only.

Creating a New Domain
Please click on the following link to log on to our client portal.
https://www.psychz.net/dashboard/client/web/cdn/
(Note: You will be asked to input your Username and Password)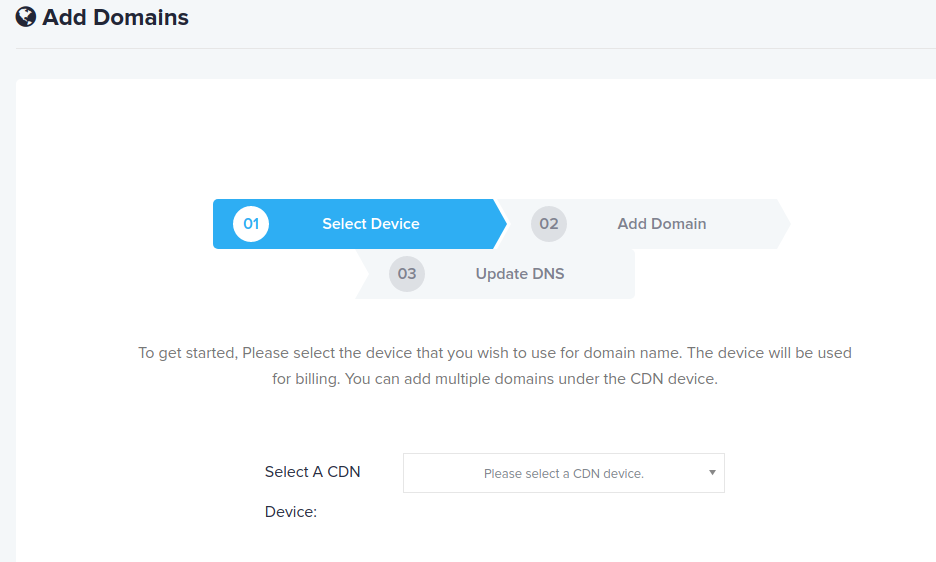 To create a new domain, please click on the "New Domain" button. Creating a domain is a simple three-step process. The steps are mentioned below.
1. Select Device - Please select a device you wish to add a domain on. The device can have multiple domains. Once you have selected the device, click on the "Next" button.
2. Add Domain - Please input the domain name, port number and the IP address of your website. Once done, you click on next to proceed further.
3. Update DNS - In the Update DNS field, you will find the CNAME which needs to be updated to your domain provider so that it can be mapped to the domain name.
Once you have updated the DNS, please click on the "Finish" button to save the domain.

Managing Your Domain
After the domain has been created, you would want to manage it and make changes as per your requirement. We have specific articles pertaining to all our CDN features posted for your reference. Please refer to our other articles for further assistance.